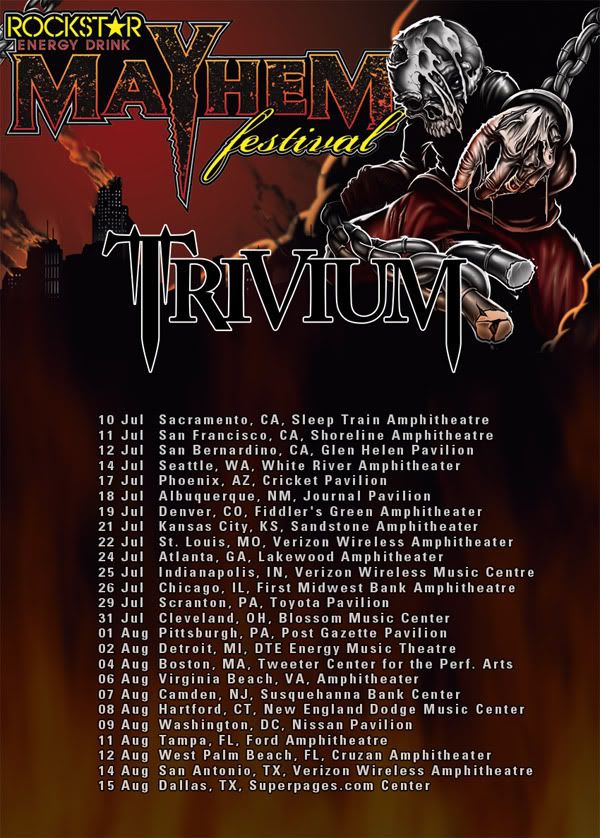 CHECK OUT PAOLO'S FEATURED PAGE HERE!

Rockstar Energy Drink Mayhem Festival, the most electrifying carnival to ever hit the summer concert circuit, is back…and bigger. Organizers of the Rockstar Energy Drink Mayhem Festival announced today that hard music legends MARILYN MANSON and SLAYER will top the bill on this year's highly anticipated tour, which is set to kick off July 10 at the Sleep Train Amphitheatre in Sacramento, CA. The festival will tear through 27 cities in the U.S. and Canada. Mayhem tickets will go on sale to the public on April 24—check www.mayhemfest.com and www.livenation.com for more info.


Like last year's Godzillian-sized lineup, the second annual Rockstar Energy Drink Mayhem Festival will feature a gaggle of rock's heaviest bands: the main stage will see Marilyn Manson and Slayer joined by BULLET FOR MY VALENTINE and a special guest that will be announced in the coming weeks; the Jägermeister stage will feature TRIVIUM, ALL THAT REMAINS, GOD FORBID and the Jägermeister Battle of the Bands winner; the Hot Topic stage will feature extreme metal bands CANNIBAL CORPSE, JOB FOR A COWBOY, BEHEMOTH, BLACK DAHLIA MURDER and WHITECHAPEL. The World's Greatest Freestyle Motocross team METAL MULISHA will also be revving up the crowd with their unique style of death-defying motorcycle stunts on all dates.